Traveler of the Quarter – Pavel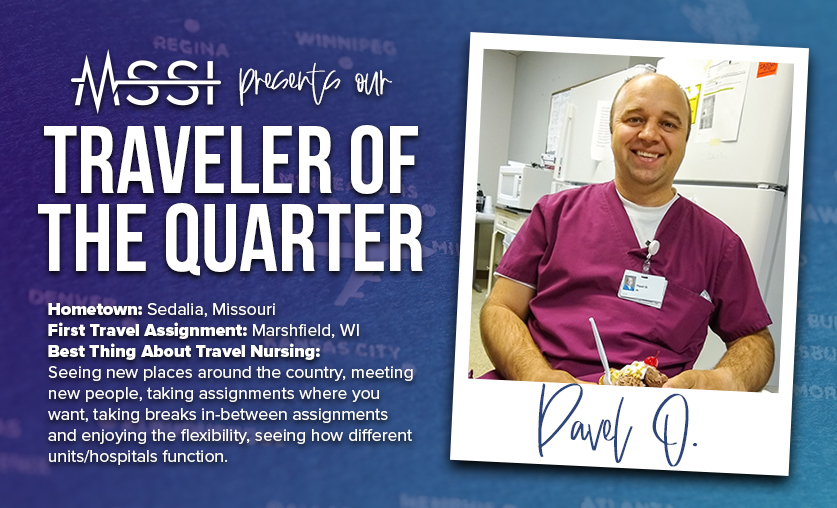 Pavel is an RN from Sedalia, Missouri who was nominated by his recruiter, Ramzes, for Traveler of the Quarter! Congratulations, Pavel, and well-deserved!
"Pavel has been a great example of a dedicated, hard-working, and caring nurse. He has been on several contracts with us since 2017. I got the privilege of working with Pavel towards the end of 2018. He's a great communicator and he's all about making sure that his patients are well cared for. I've even listed below some comments that we received from past managers/charge nurses from previous travel assignments. These comments go to show you how great a nurse Pavel is and how he deserves to be nominated for the Traveler of the Quarter award." – Ramzes
"Dependable, team player, hard worker, GREAT critical thinker." – Nurse Manager on his assignment in Tulsa, OK.
"Very professional, friendly, and knowledgeable." – Charge Nurse on his assignment in Tulsa, OK.
"Pavel is a wonderful nurse, he is dedicated, kind and is aware of the appropriate practices in providing care for our patients." – Nurse Manager on his assignment in Marshfield, WI.
Name or Nickname (if any): Pavel
Hometown: Sedalia, MO
How long have you been traveling for? Since the fall of 2017.
Where did you take your first travel assignment? Marshfield, WI
Best thing about travel nursing: Seeing new places around the country, meeting new people, taking assignments where you want, taking breaks in-between assignments and enjoying the flexibility, seeing how different units/hospitals function.