Traveler of the Quarter: Peter Kraus
Congratulations to Emergency Department RN, Peter Kraus – an MSSI Travel Nurse.
In healthcare staffing, there are individuals who not only excel in their roles but also leave an indelible mark on everyone they serve. This quarter, we honor one of our ED RNs who embodies excellence in every facet – Peter, an outstanding travel nurse and the true essence of inspiration.
Peter's remarkable journey with MSSI is one of commitment, growth, and exceptional accomplishments. Since 2016, he has taken over five assignments with us, consistently being invited for extensions at each facility he was placed at. This speaks volumes about his work ethic and the undeniable positive influence he leaves on the healthcare communities he touches.
Within just two weeks of joining his current facility, Peter's exceptional work caught the attention of a colleague. The manager's words of commendation reflect the profound impact Peter makes: "You have been acknowledged by one of your colleagues for your outstanding performance and inspirational patient care. Our patients and ED team deeply appreciate you! Keep up the amazing work!"
Moreover, the manager emphasized, "I extend my gratitude and let you know how much we have relished having Peter. He exemplifies high standards and excellence in every conceivable way." Peter's unwavering commitment to upholding exceptional standards is a testament to his dedication and ardor for providing paramount patient care.
Peter's personality exudes positivity and professionalism, making him the embodiment of an MSSI caregiver's core values. His readiness to represent MSSI with pride and to consistently deliver excellence in any facility he enters reflects his character and devotion.
This prestigious recognition as our Traveler of the Quarter holds an extra layer of significance as Peter's recruiter, Kelly Juers, and his Account Manager, Jordan Smith, both nominated him. Their firsthand experience of Peter's exceptional dedication and remarkable patient care speaks volumes about his character and impact.
With the utmost honor, we commend Peter as our well-deserved Traveler of the Quarter. This accolade is a tribute to his unwavering contributions, his remarkable patient care, and his embodiment of the MSSI spirit.
Peter, as you continue to illuminate the path with your extraordinary dedication, know that you are not just a travel nurse; you are an epitome of excellence, a custodian of quality care, and an inspiration to us all!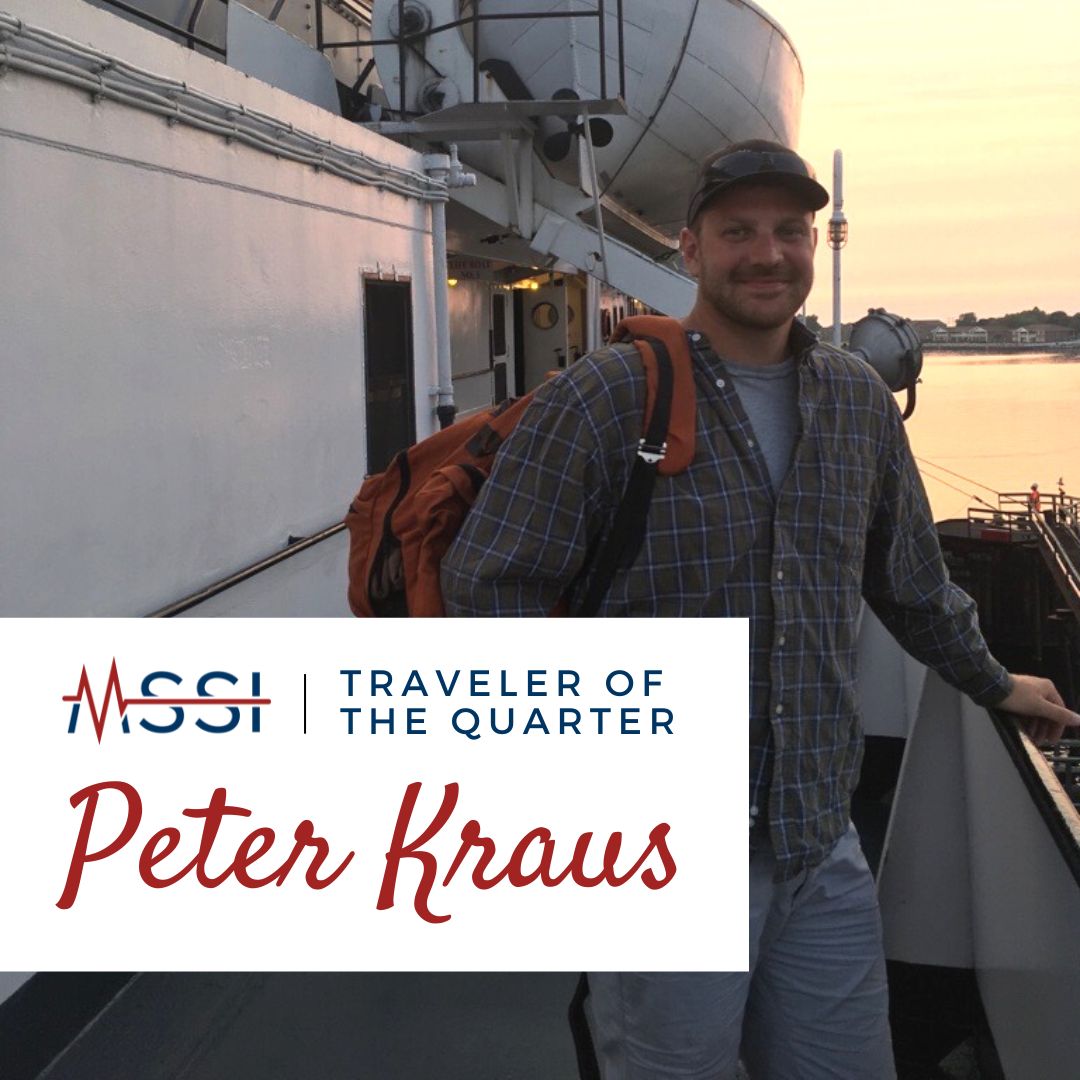 All About Peter
Specialty: Emergency Department
Hometown: Kiel, WI
Where did you go to school? UW-Green Bay and then Bellin College of Nursing for my BSN
Location of your first travel assignment: Jefferson City, Missouri
What do you enjoy most about traveling? The variety and constant change
How do you typically spend your days off? Visiting family, biking, going to the beach
Where would your dream travel assignment take you? Alaska
Last book or movie you read/watched? Oppenheimer