Traveler of the Quarter: Margaret Kaczmarek
Congratulations to PACU Registered Nurse, Margaret – an MSSI Travel Nurse.
At MSSI, we're proud to honor exceptional individuals who embody dedication, excellence, and an unwavering commitment to their roles as travelers. This quarter, we're thrilled to spotlight Margaret – an extraordinary PACU RN (Post-Anesthesia Care Unit Registered Nurse) who has earned the esteemed title of MSSI Traveler of the Quarter. What makes her achievement even more remarkable? Margaret has received not one, but three nominations from her Recruiter, Compliance Manager, and Account Manager.
Right from the start, Margaret's dedication during onboarding was undeniable. Her patient and composed demeanor set an inspiring tone for her peers. As her facility introduced new compliance requirements, Margaret's proactive approach and unwavering patience shone through, ensuring seamless fulfillment of each requirement.
Margaret's commitment extended beyond compliance. She consistently updated us about her experiences as a travel PACU RN at the new facility. Throughout her onboarding and her first several weeks, she showcased patience and understanding. Constructive feedback from Margaret enabled us to set clear expectations for future travelers. From the start, her understanding and cooperation displayed unwavering dedication.
Her exceptional contributions didn't go unnoticed by the facility either. Colleagues respected her, and perfect attendance underscored her dedication. A client testimonial speaks volumes: "Margaret has been an excellent addition to our team… Well respected by peers and had perfect attendance. Would highly recommend."
Margaret's resilience, dedication, and pursuit of excellence set a benchmark, highlighting that success hinges on perseverance and an unwavering pursuit of greatness. Congratulations, Margaret, on earning the well-deserved title of Traveler of the Quarter!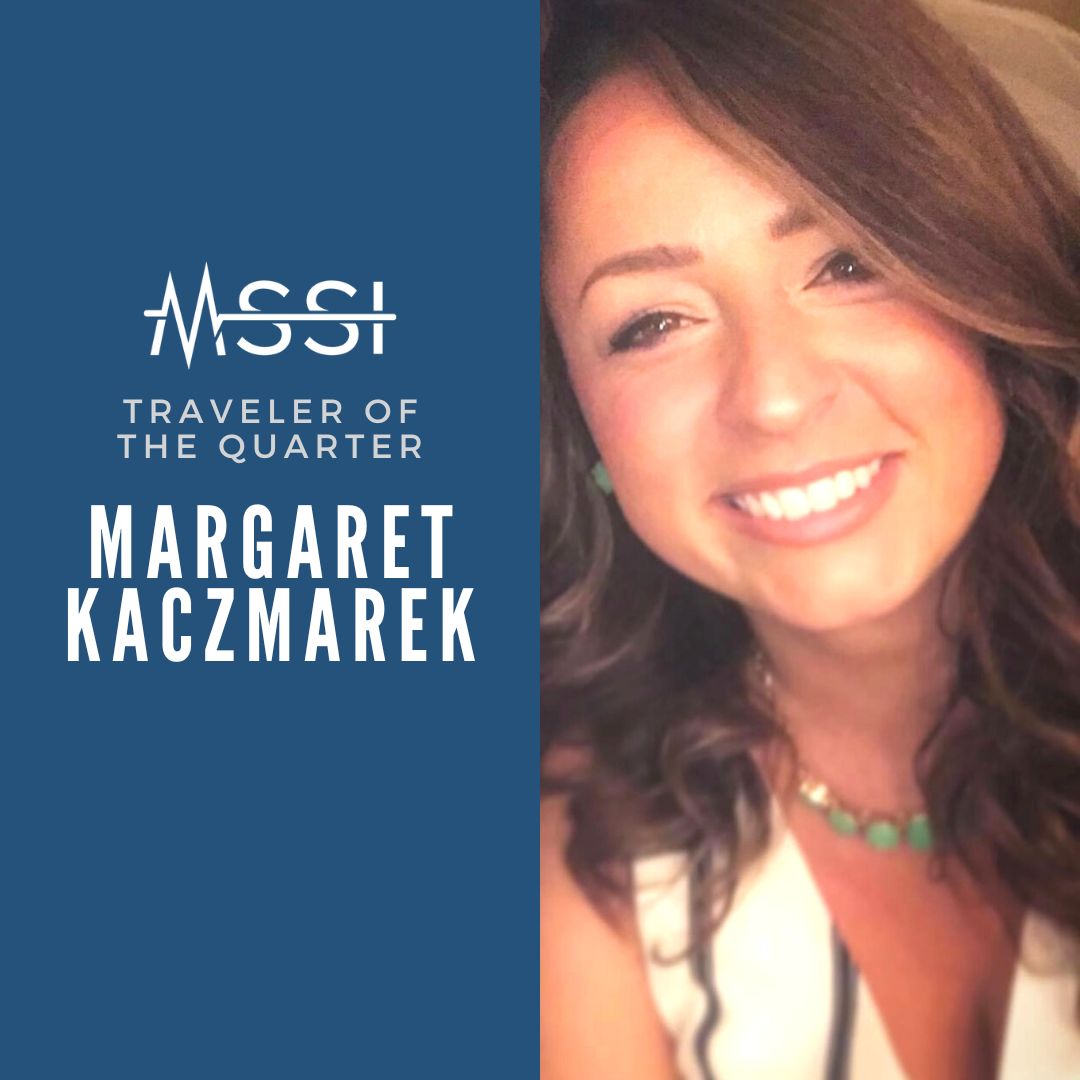 All About Margaret
Specialty: Preop/PACU
Hometown: Windsor, ON
Where did you go to school? University of Windsor, ON Canada
Location of your first travel assignment: Southfield, MI
What do you enjoy most about traveling? I love the opportunity to step out of my comfort zone and discover new places while meeting some amazing new people. I enjoy seeing how different hospitals run and think this makes me an overall more rounded Nurse.
How do you typically spend your days off? I love spending time with my family, my girls and my pup.
Where would your dream travel assignment take you? I would absolutely love to take an assignment one day in Alaska. That would be a dream.
Last book or movie you read/watched: Last book would have been a while ago since I have now have kids, but something by Karen Swan. Last movie would be Barbie. Haha!