Traveler of the Quarter: Kari Melek
Congratulations to our 2023 Q2 Traveler of the Quarter, Kari Melek – MSSI Travel Respiratory Therapist.
Congratulations to a truly exceptional caregiver who has touched the hearts of those around her. Join us in congratulating Kari, our distinguished Traveler of the Quarter, whose unwavering commitment as a travel Respiratory Therapist has been nothing short of extraordinary.
Kari is on her seventh contract at her facility and her impact has been profound and far-reaching. Her expertise and skill have earned her a special place with her managers specifically requesting her by name to return for multiple extensions. This is a testament to the level of care and dedication she brings, perfectly aligned with the values we hold dear.
Kari's manager at the facility spoke highly of her, saying, "Kari has been an excellent addition to our team during her time with us. Well respected by peers and had perfect attendance. Would highly recommend." These words echo the sentiment we all share: Kari's presence is a true asset to the team, embodying the kind of caregivers we strive to provide for our clients.
However, Kari's impact extends beyond her technical proficiency. In a recent remarkable instance, she went above and beyond to support nurses and doctors when faced with a challenging patient diagnosis. Armed with research and determination, Kari collaborated seamlessly with the medical team, arriving at an accurate diagnosis that earned her the admiration of her peers.
Kari's genuine care radiates through every interaction, brightening the lives of her patients. Her compassion knows no bounds – from painting patients' nails to styling their hair, she goes the extra mile to make patients feel cherished. Her thoughtful gestures, like providing a patient with a favorite meal, showcase her commitment and dedication to showing true care for her patients.
Kari's nomination for Traveler of the Quarter came from none other than her Account Manager, Jaimee Campbell, and her recruiter, Jessica Seidl. Their trust and belief in Kari's exceptional abilities further underscore her remarkable achievements.
In honoring Kari as our Traveler of the Quarter, we not only celebrate her achievements but also the essence of what makes healthcare an honorable and noble profession. Her story reminds us that the human touch, sincere care, and unyielding dedication create ripples of healing and hope in the lives of those we serve.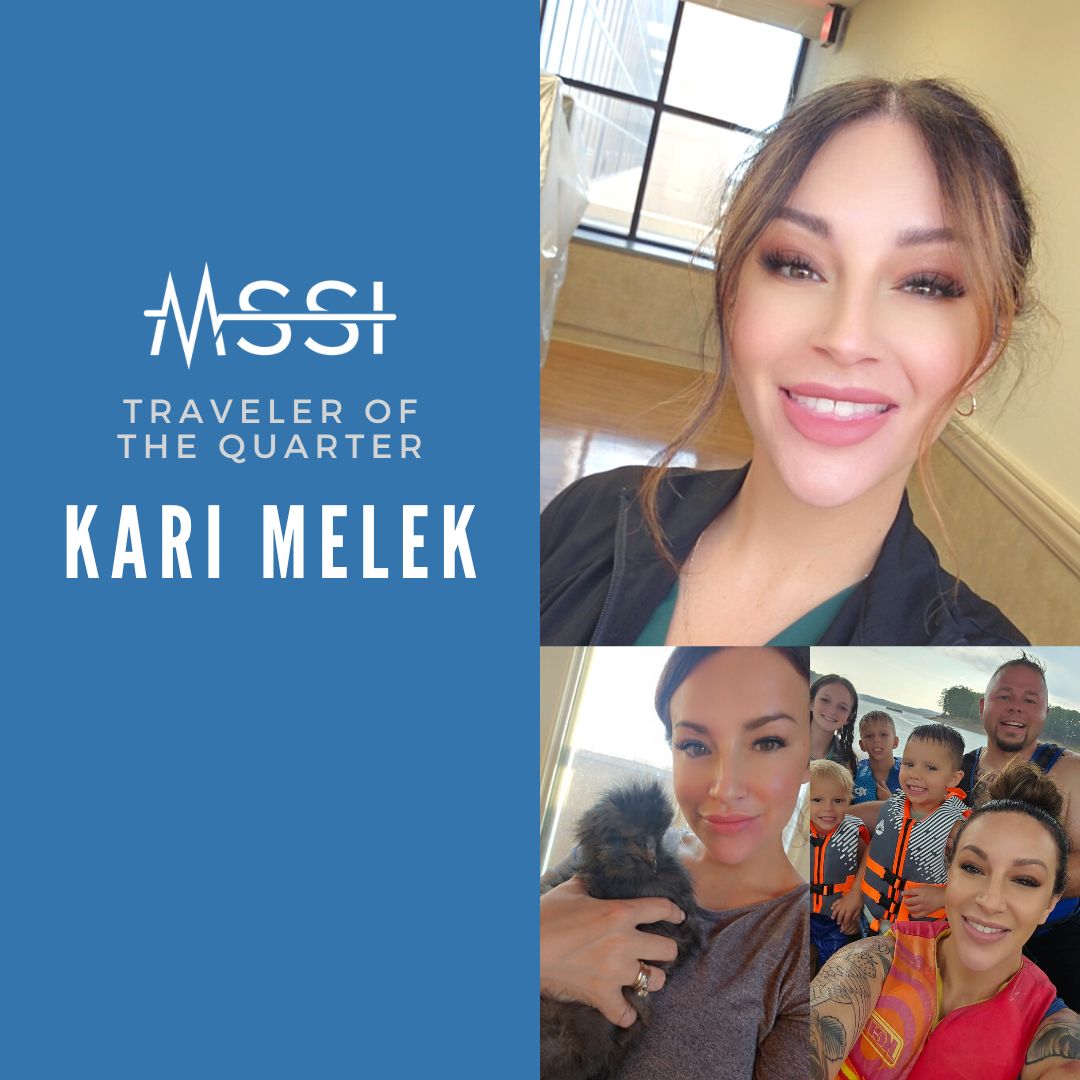 Specialty: Respiratory Therapist: ICU, ER, NICU
Hometown: Amarillo, Texas
Where did you go to school? Amarillo College
First travel assignment: Lubbock, Texas
What do you enjoy most about traveling? Making new friends and meeting other RTs from all over the US.
How do you typically spend your days off? Reading books, going to the cabin at the lake, gardening, ziplining and caring for my chickens.
Where would your dream travel assignment take you? Hawaii!
Last book or movie you read/watched: The Convoluted Universe by Dolores Cannon