Travelers of the Quarter – Raven and Lavetta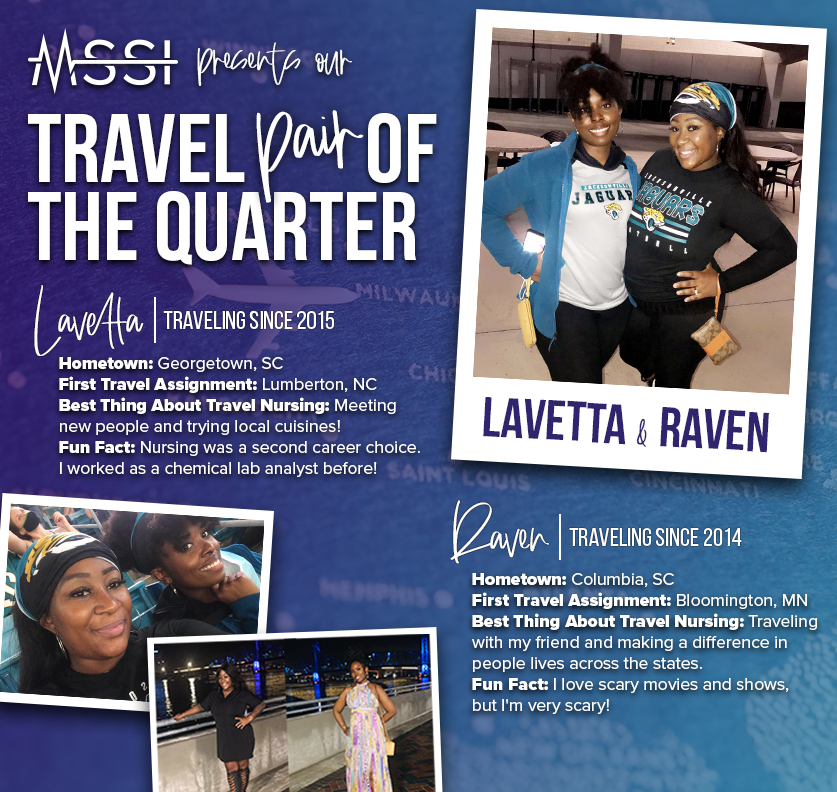 Raven and Lavetta are our first travel pair, nominated by their recruiter, Brent. These stories of why there were nominated are a must-read! Congratulations, Raven and Lavetta, and well-deserved!
Lavetta and Raven have both worked as a travel team for MSSI on two different COVID assignments. Their first assignment was in Warren, MI. Here, Raven received some great feedback from the facility:
"I wanted to write and tell you what a great experience my family had with your nursing staff in April and May of this year, in spite of the circumstances that necessitated their involvement. My father was admitted on April 9, 2020 (after developing Covid-19 subsequent to an admission in March 2020). From the start, he required quite a bit of oversight with his care, pulling out his IV and pulling off oxygen masks repeatedly. We unfortunately did not get a lot of communication from the doctors in the first couple of weeks, but my stepmother and I spoke with the nurses daily, sometimes several times per day, including the nurses in the Palliative Care. Our requests and concerns were addressed with kindness and respect and we were able to speak with my father every day, which was a great comfort since we were unable to visit with him. Your nurses were very knowledgeable and as we became more informed about treatments and interventions were very good about updating us regarding his progress. Due to complications from Covid, combined with his underlying health issues (bone cancer, reduced kidney function, Alzheimer's), my father passed away on May 3rd. When his prognosis became clear, we transitioned him to palliative care, which we believed and hoped made the days before his death more comfortable and peaceful. The staff did a great job of helping us try to anticipate and expect certain events to take place, all the while being very delicate about language and never being negative. While overall we greatly appreciate what your staff did for us for almost an entire month, I do want to specifically acknowledge Raven. Raven went above and beyond even the great care we were already getting and seeing. Raven arranged for myself and my daughter to FaceTime with my dad on April 28 and say goodbye and I love you to him, because we were not sure how much longer he had at that point. Raven then tried to FaceTime with my stepmother, but her phone did not have the capability, so Raven friended her on Facebook, so that she could set up a video chat for my stepmother to see him and say goodbye. Then, my 96-year-old aunt was trying to call my dad, and Raven called her back repeatedly, until she was able to connect and set up a FaceTime for her as well, for which she (and we) were very grateful. As I said, there was a lot of great, loving care that my dad received during his stay at Ascension, but Raven's actions were unexpected and so meaningful for us. We did thank her, but thought it was important for you to know how much her conduct meant to us."
Raven and Lavetta then took a COVID assignment for another agency, but returned to MSSI to work yet another COVID assignment in Jacksonville, FL. Here, Lavetta was the one to receive the great feedback.
"I just wanted to send a recognition for one of your contract workers – Lavetta Milton. She has been on 4W a few times this week and she has always been very polite, helpful, and thorough! Yesterday, she observed changes to the lower extremity of a patient and contacted the doctor immediately. The MD ordered imaging, and an occlusive DVT was found. Vascular Surgery had to be consulted. This was a great catch! Thank you Lavetta for your hard work and dedication to your patients! Your hard work does not go unnoticed."
"Both RNs are great caregivers for MSSI and have done some great work on the front lines in the battle against COVID-19." – Brent
Name: Lavetta Milton – traveling since 2015
Hometown: Georgetown, SC
First assignment location: Lumberton, NC
Favorite thing about traveling: Meeting new people and trying local cuisines.
Fun fact: Nursing was a second career choice. I worked as a chemical lab analyst
Name: Raven Hill-Crewell – traveling since 2014
Hometown: Columbia, SC
First assignment location: Bloomington, MN
Favorite thing about traveling: Traveling with my friend and making a difference in people's lives across the states.
Fun fact: I love scary movies and shows, but I'm very scary!