Traveler of the Quarter: Kevin Readel
Congratulations our Traveler of the Quarter for 2022 Q3, Kevin Readel! Kevin was nominated by his long-time recruiter, Kelly.
"Kevin is an outstanding nurse by all accounts! He has received high praise from leaders on his travel assignments with us. He is always asked to extend. Kevin has worked for us consistently for over two years in multiple states/healthcare systems, etc. He is a recruiter's dream! He is easy to communicate with, punctual with getting required info back and is always appreciative and kind. He is EXACTLY the type of nurse we want out there at our facilities representing MSSI. He also sings our praises to other travelers as I have received many referrals from him. Kevin has been on assignments with other travelers of mine (coincidentally) and I have had several of those nurses reach out to me to tell me what a great guy he is as well. Kevin is more than deserving of praise and a Traveler of the Quarter Award!" – Kelly Juers, Senior Recruiter.
Kevin also received praise from his Nurse Manager at assignment: "Kevin is an extraordinary nurse. He always maintains a positive and professional attitude while providing excellent, efficient, and timely patient care. Kevin is very detail-oriented, he always remains calm during emergencies, and is quick to implement his professional judgment under pressure. He is definitely a leader; he has helped to guide new nurses and nursing students within the unit. In situations where immediate assistance is required, Mr. Readel rises to the occasion and solves problems just as quickly as they develop."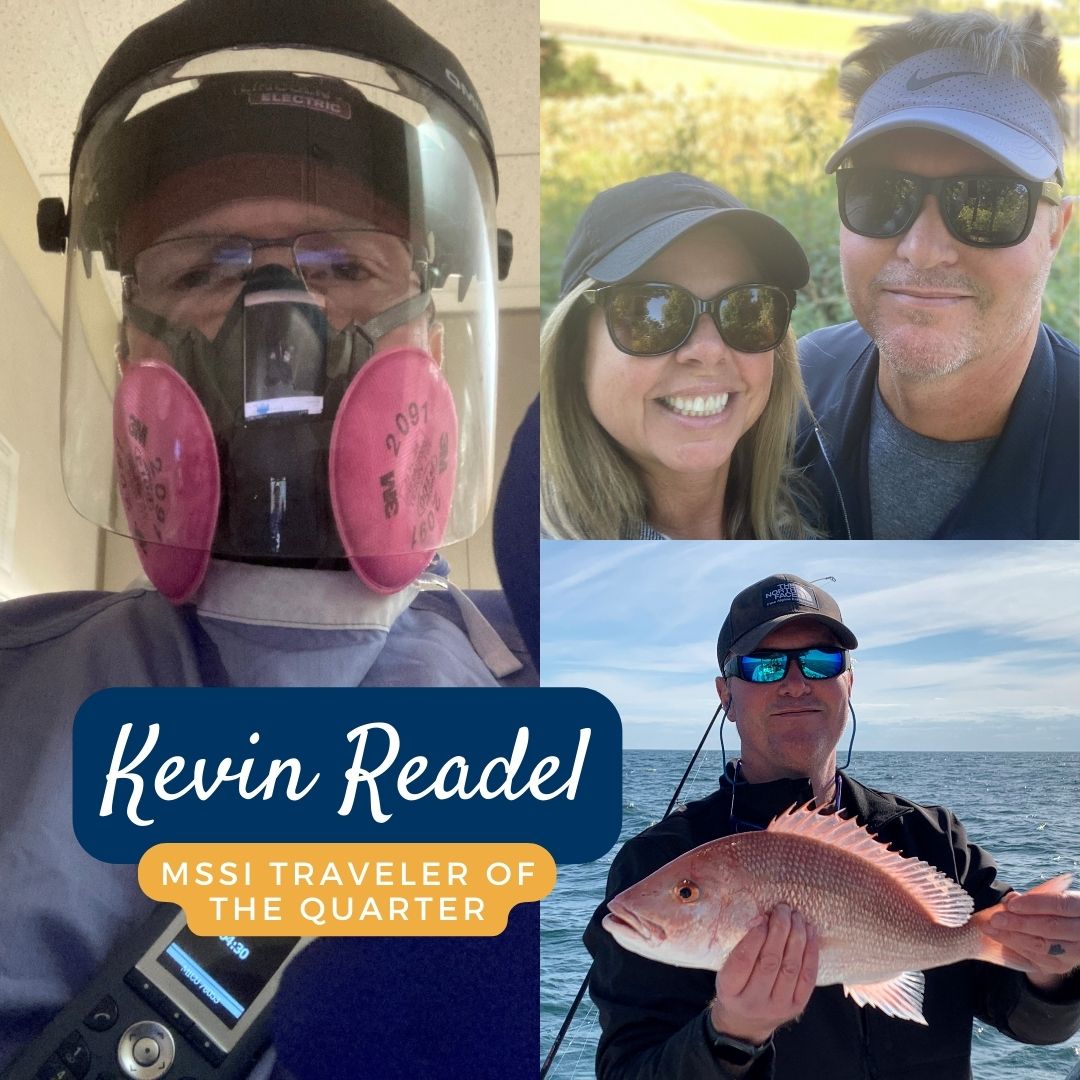 Hometown: Murray, KY.
How long have you been in this field? I have been an RN for 11 years.
First travel assignment? My first travel assignment was with MSSI in Detroit, MI at the beginning of the COVID pandemic.
What is your favorite thing about travel nursing? My favorite thing about travel nursing is the interesting places you go to and the friendly people across the country you get to meet and work with.
How do you spend a day off? My favorite way to spend a day off is to do anything outdoors. Whether it's the beach, the mountains, or a hike on a local trail, I love being outside.
Last book you read? The last book I read was Educated by Tara Westover.
I have been fortunate to have many meaningful moments in my career, but working with MSSI during the COVID pandemic gave me some of toughest clinical situations along with some of the most meaningful recoveries I have experienced. I felt honored and obligated to use my skills help patients, their family members, and their communities get through the pandemic as best they could.