Become a Traveler
in 9 Steps!
If you have the desire to see the country, be paid to travel, and are confident in your nursing skills, starting a career in travel nursing may be the perfect fit for you. Travel Nurses take on short-term assignments (typically 8-13 weeks) in different cities, depending on preference. Before taking on this exciting new lifestyle, here are nine important things to consider when preparing to become a travel nurse.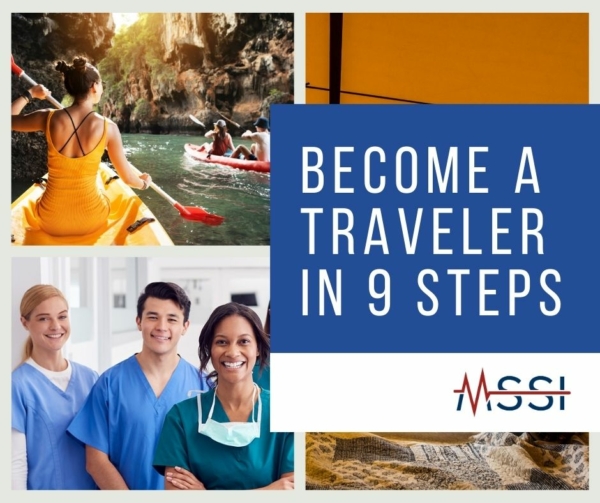 9 Steps to Becoming a Travel Nurse (or Travel Tech, Travel Therapist, etc!)
Complete the required education. Obtaining your ADN or BSN to become a Registered Nurse from an accredited university will help prepare you for bedside and leadership roles as a nurse. Although you can travel with either degree, some hospitals may require or prefer a BSN over an ADN.
Pass your exams! Now that you have completed your degree, it's time to study for the National Council Licensure Examination (NCLEX). This test is developed and administered by the National Council of State Boards of Nursing, Inc. (NCSBN). In order to qualify to be licensed as a Registered Nurse, it is essential that you pass this exam.
Gain the minimum of amount of experience in specialty areas. Hospitals typically require 1-2 years of working in a specialty area at a minimum. (This does not include any work you did while still in school). With as little as one year of nursing experience, you may be eligible to take your first assignment. However, most travel nurses will tell you they would recommend gaining as much experience as possible before jumping into a new hospital as you will be expected to hit the ground running!
Have your medical portfolio on hand. As a travel nurse, your medical record documentation is critical to have and maintain. Each agency you work with must gather and maintain a full set of medical records in order for you to begin an assignment. Each hospital that you work with may have their own requirements.

Keep your certifications up to date.

It is essential for you to acquire and maintain all certifications needed in order to start an assignment. Examples of required certifications would be: Basic Life Support (BLS), Advanced Cardiac Life Support (ACLS), Pediatric Advanced Life Support (PALS), and Stroke Certification (NIH). One important thing to consider is that most hospitals will require that your certifications come from the American Heart Association versus elsewhere. Be sure to check with your recruiter on specifics.
Find the right agency and the right recruiter! When researching different travel nurse companies, be sure to review the benefits that the agencies provide. Items may include: Insurance (Health/Vision/Dental), Company Provided Housing (or Stipend), Traveler-Friendly Facilities and tax-free Travel Stipends. Additionally, having good rapport with your recruiter can also be of high importance as you'll work with them from start to finish. Be sure to check into an agency's reputation as well and see what other travel nurses have experienced.
Accept your first assignment!

Once you and your recruiter have matched you to a job that is the right fit for you and decided on a start date, you'll want to start turning in all of your credentialing to your new company right away. You will be asked for all of the things mentioned before (medical portfolio, certifications, etc.) and most likely also have to take a drug test, have a background check ran and turn in direct deposit forms among other things. You will receive first day info on orientation, parking, and scrub colors so be sure to review and ask questions.

Give your current facility proper notice.

By giving the required notice at your current hospital, you may be able to return to that hospital when you're in-between assignments or ready to become a staff RN again. As with any hospital you work at, you never want to burn bridges! Most assignments will be able to work around a 2-3 week notice to get you started after you finish your time at home.
Start at your new hospital!

Congratulations, you are now officially a TRAVEL NURSE! Your recruiter will check in with you on a regular basis to see how things are going and what your next steps from there will be, whether it's choosing to accept an extension offer or find an entirely new assignment elsewhere. Make sure to enjoy your time! 13 weeks will go by fast!
Check out our travel nurse job openings here.