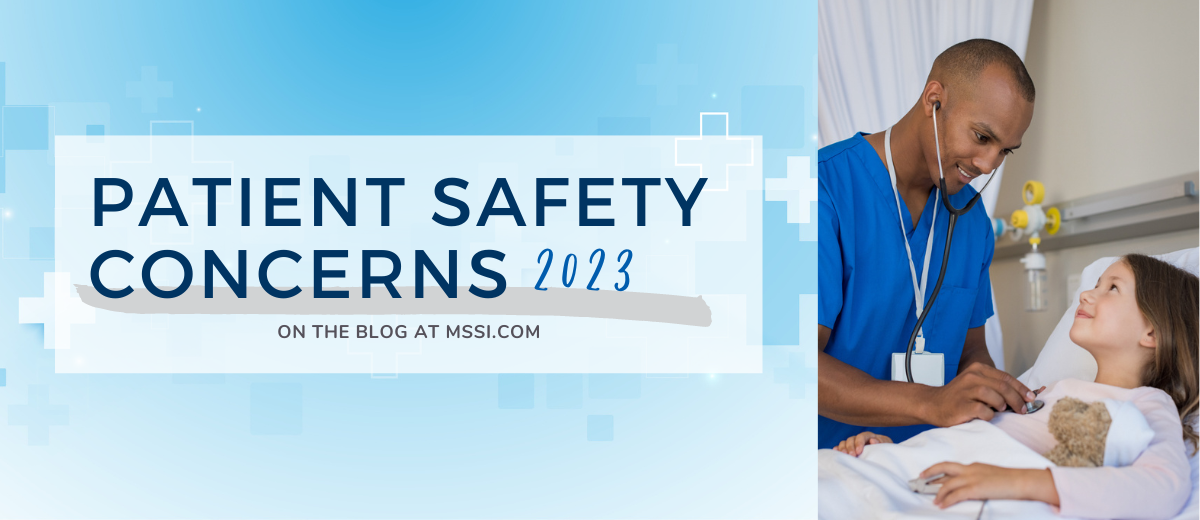 Patient Safety in Nursing
The Emergency Care Research Institute conducted an independent medical device evaluation to create a top 10 list of concerns with regard to patient safety in nursing for 2023. Are you curious which items made the top 10? I think you will find this list very relevant to your time in health care facilities over the last year.
1. The pediatric mental health crisis

2. Physical and verbal violence against healthcare staff

3. Clinician needs in times of uncertainty surrounding maternal-fetal medicine

4. Impact on clinicians expected to work outside their scope of practice and competencies

5. Delayed identification and treatment of sepsis

6. Consequences of poor care coordination for patients with complex medical conditions

7. Risks of not looking beyond the "five rights" to achieve medication safety

8. Medication errors resulting from inaccurate patient medication lists

9. Accidental administration of neuromuscular blocking agents

10. Preventable harm due to omitted care or treatment (ECRI, 2023)
Pediatric Mental Health Crisis
Many of the items on this list, including the Pediatric Mental Health Crisis, can be related to staffing shortages, which were the number one challenge on last year's list of the Top 10 Patient Safety Concerns, according to ECRI in 2022. Healthcare has been no different and has been extremely hard hit with staffing shortages, especially during this past year. Many healthcare professionals say this has led to dangerous patient care practices and outcomes (Forbes, 2023).
Staffing challenges significantly impact the quality and safety of the entire healthcare system. Here are a few tips and tricks to follow regarding the current health concerns as you journey through 2023. When traveling to different organizations, be sure to use and follow their universal screening for depression, anxiety, abuse, substance use, and suicidal ideation for adult and pediatric patients during every stay. Know how to find and use a behavioral health emergency response team of trained individuals, and ensure that you know when and how to activate this team. Is there a different process for patients versus visitors? It's important to know the facilities security processes and these key practices to combat workplace violence.
Uncertainty Surrounding Maternal-Fetal Medicine
In the maternal-fetal care field, be sure to review all state law changes that could impact fetal health care in the state you are practicing.
Identification & Treatment of Sepsis
For sepsis practice, learn and use organization-provided bundles and protocols to ensure early detection. If the organization you are working at lacks a policy or guideline, advocate for having one developed. This is where nurses role in patient safety is critical. A great site to check out is www.endsepsis.org – which has excellent resources and state specific guidelines.
For complex patients, learn about the multidisciplinary care coordination team at the facility where you work. Introduce yourself and write down contact information so you can update the appropriate care members regarding your complex patients.
Medication errors can be frightening, so it is necessary to have a solid process around the five rights of medication administration (and the sixth right with proper documentation) to prevent medication errors, no matter where you work or what unit you are on. Don't cut corners or be lazy with the process; it's very important to develop a solid routine and use it every time. Medication reconciliation is also a key practice; ensuring medication lists are complete and accurate with no contraindications is key to safe practice for patients and needs to be every RN's responsibility to ensure the process has been completed. While we are on the topic of medications, it is important that you identify neuromuscular blocking agents and the hospital process or protocol around them. Ensure they are locked separately or have a brightly colored tag to easily identify them. These are some easy practice changes that will help with accidental administration.
As the staffing shortages continue, there may be more creative processes implemented to help mitigate preventable harm while using fewer overall resources. Some health systems are facilitating creative ideas, such as an ambulation specialist or a nurse who does all of the care plans for the entire floor. These roles are meant to take some of the daily burdens away from the bedside RN, which allows the primary nurse more time for direct patient care tasks.
In the future, we will continue to see creative methods and implementations to help organizations combat patient safety concerns while maintaining their budget constraints and working with staffing shortages in all areas. What creative ideas have you seen where you are working? What tips do you have or practice daily to ensure you maintain safe patient care?
Where will

travel nursing

take you?
From the shining lights of a big city, to the sandy beaches of a coastal town, we have the
perfect travel location
you're looking for! Our travelers consistently give up raving reviews which lands us awards from BluePipes and Travel Nursing Central year after year! And not only that, but our pay rates are the
highest in the industry
. Fill out the form and one of our awesome recruiters will get in touch with you about the endless possibilities with MSSI!
Highest pay in the industry – no need to negotiate!

Exclusive contracts at facilities across the country

First day benefits – medical/dental/vision for eligible assignments

Weekly pay via direct deposit

24/7 access to your Recruiter

Tax-free travel and housing stipends